Technology
Online resources are available to our K-8 students through their student portal.  Stay up to date on the District's Coronavirus Information Page.
Get Connected!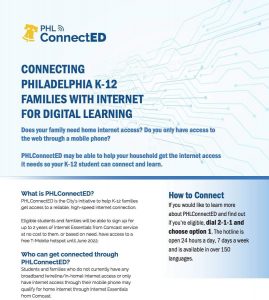 *Note: This information is being shared by the Movement Alliance Project and PHLConnectED. *
If you or your family can't get online, the city has now set up a hotline – 211 – that can help connect you with free or affordable internet.  spread the word widely!  and if you try to get online and keep hitting walls, let us know at Movement Alliance Project – https://docs.google.com/forms/ d/e/1FAIpQLSeMM-U6q- mE1BqKCWARrd72m_ X9K1RRs0Fi8W5O_prb8sgXvA/ viewform – or call 215-239-3050!
The School District of Philadelphia will loan a Chromebook to every District K-12 student who needs one, to ensure all students have access to digital learning opportunities while schools remain closed long-term due to COVID-19 (coronavirus) response efforts. It will also make digital content available to help students retain, learn and apply skills and strategies with the support of a teacher. The loaner program is free however all devices must be returned once schools reopen.
Information about free or low-cost internet service can be found here.
Need help with your District-issued Chromebook? Or haven't picked one up yet?  Contact the School District's Parent & Family Technology Support Centers.
Three Technology Support Centers are open 5 days/week, Monday – Friday 9:00 a.m. to 2:00 p.m. for families to obtain new Chromebooks (all three locations), or get help with theirs (at 440 and Fitzpatrick only).
Please note: Starting September 14, 2020, we will open South Philadelphia HS as a Parent & Family Tech Support Center for Chromebook pick up and repairs. To allow for a smooth transition as the South Philly HS location ramps up, the Support Center at 440 N. Broad will remain open for the week of September 14. September 18th will then be the last day for Chromebook repair and distribution at the 440 location.
So beginning September 21, 2020, the 3 locations for Chromebook pick up and repairs will be MLK High, Fitzpatrick Annex, and South Philadelphia High.
Parent & Family Technology Support Centers Education Center, Philadelphia School District (open through Sept 18)
440 N. Broad Street, 1st Floor Lobby, Philadelphia, PA 19130
Fitzpatrick Annex Building
(rear of Fitzpatrick Elementary School) 4101 Chalfont Drive, Philadelphia PA 19154
Martin Luther King High School (NEW CHROMEBOOKS ONLY, not tech service!)
6100 Stenton Avenue; Philadelphia, PA 19138
Starting September 21: South Philadelphia High School at 2101 South Broad Street
Technology Help Line
We also now offer a dedicated telephone support line (215-400-4444) and email (FamilyTechSupport@philasd.org) exclusively for parents and students to help you get your District-issued devices up and running, and to address more basic technical issues with broken or malfunctioning computers.