School Nurse
Nurse O'Keefe is here to address any medical questions that you have for your students and family. Please contact within the school or email me here.
School Immunization Clinics with CVS
CVS Pharmacy is offering new school Immunization Clinics.  Learn more at philasd.org/vax
Food access points that are within the vicinity of Taggart School
Eat Right Now Nutrition Program
Pre-Recorded Lessons
Hey, Taggart parents and caregivers! Did you know our partner Eat Right Philly has short online lessons to motivate and support you in your health and wellness journey? Each lesson is self-paced so you can do it in your own time. Plus you'll receive a free cookbook full of healthy recipes! Click here to get started now.
Lecciones Pregrabadas
¡Hola padres y representantes de Taggart! ¿Sabía que nuestro socio, Eat Right Philly, tiene lecciones cortas en línea para motivar y apoyarle en su viaje de salud y bienestar?  Cada lección fue diseñada para completarla a su ritmo, por lo que puede hacerla cuando tenga tiempo.  Además, ¡recibirá un recetario gratis lleno de recetas saludables! Haga un clic aquí para comenzar.
Other Health Topics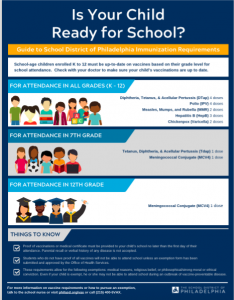 Pennsylvania State law requires students to be fully immunized while in school. This means school-age children must receive certain shots in order to attend school. Students can be prevented from attending school if they do not have the shots they need. Making sure your child is up-to-date on his/her shots helps keep kids healthy and in school. Not vaccinating your child could lead to illness and disease outbreaks.  Also, if your child is not immunized and there is an outbreak, your child will not be allowed to attend school until the outbreak clears (this could take weeks).
See the Center for Disease Control's 2019 Recommendations for Child Immunizations.  Also please see the School District of Philadelphia's Student Health Services page.
Read the School District of Philadelphia's absence policy.